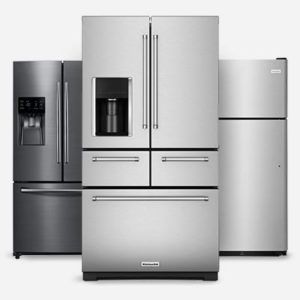 Refrigerator repair
Seattle Metropolitan Area (King county, Tacoma)
LICENSED FRIDGE REPAIR BY SAFE APPLIANCE REPAIR TEAM
Safe Appliance Repair repairs all brands of refrigerators, including domestic and import brands. Our repair technicians are licensed and insured to provide reliable service for stand-alone and built-in refrigerators. Few appliances are as central to modern life as the refrigerator. Since shopping for food every day isn't convenient, we need a way to safely store items until they are consumed. Time is of the essence when you require refrigerator repair, which is why you should contact us for our same-day service.


Highly Skilled Technicians
COMMON FRIDGE PROBLEMS
Our professional technicians fix all refrigerator issues you might need. Common refrigerator problems we repair:
Worn electrical wiring
Door gaskets not sealing properly
Malfunctioning control modules
Problems with the defrost heater
Inaccurate thermostat and other problems
FRIDGE TYPES WE REPAIR
We service, repair and install refrigerators of all domestic and imported brands, with various fridge types, including:
French-door refrigerators
Side-by-side refrigerators
Top and bottom mount refrigerators
Stand-alone and Built-in refrigerators
Freezers and coolers and more
Choose The Safe Appliance Repair
Quality & Reliable Service at Reasonable Price
Time
We know your time is valuable, whether it's a rental property , your own property, or your business, we will be there in no time, in order for your to go back to your daily business, with as little disruption as possible.
Quality
Our technicians are highly experienced and use brand new, original, and high quality parts needed to complete the repair of your appliance.

Price
Other companies will give you the bill with an unknown amount when they have finished the repair. With us, you will always know how much labour will cost, before the job is done, no matter how long it takes us to complete.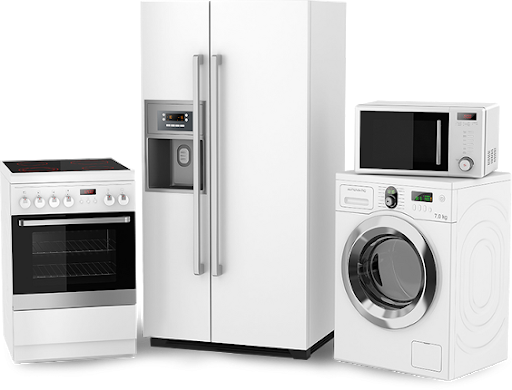 Book Your Repair
Customer Reviews
What others say about Safe Appliance Repair
Safe Appliance Repair was fast to arrive, friendly, and quick to finish. I appreciate that they didn't leave a mess behind like some other companies I have worked with. I will be calling them the next time an appliance stops working.
I had been having trouble with my refrigerator off and on for months. Half the time I was drying my clothes at the laundromat around the corner despite having other repair services come out to fix the problem. When I called Safe Appliance Repair, a technician showed up within an hour and had my refrigerator fixed in no time. No problems since.
One day I came downstairs to grab breakfast and realized my washer sounded too loud. I didn't think this was normal, but I wasn't sure, so I called Safe Appliance Repair. They were at the house within a few hours and told me that the problem was bigger than I had thought and could have permanently damaged the washer. It was a good thing I called when I did.
Right after a dinner party, my dishwasher stopped working. I pressed the buttons and nothing happened. Safe Appliance Repair came out the same day I called and got it working again. It was a huge relief because my house was a mess. If I have another appliance problem, I will call them again.
The other day, I went to set out some meat to thaw for dinner only to find it was already partially thawed in the freezer. While I couldn't save everything, I wanted to get my freezer fixed before I lost hundreds in groceries. Safe Appliance Repair arrived quickly and had my freezer up and running in a few hours.
My refrigerator quit working after a bad storm. The lights went out, and when they came back on, my refrigerator didn't. I was afraid that the appliance was garbage and that the food inside would be too, but Safe Appliance Repair was able to fix it. We did go get a few coolers and ice so they had the time needed to fix it, but in the end, both the refrigerator and food were saved.
It took a little while to get the part they needed to fix my dishwasher, but they still finished the same day I called. I am happy with their service and would use them again.
I had a bad appliance week, needing help from Safe Appliance Repair twice due to a busted oven and then my stove. In both cases, they were there quickly and finished within two hours. While I am happy with their service, I am hoping I won't need to call them for a while.
Appliance brands
Appliance Brands We Repair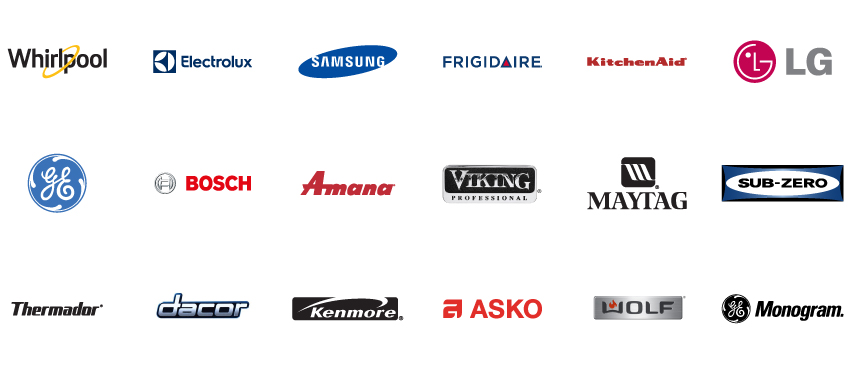 Service Areas
Our appliance repair technicians service King County Area and locations around it, including:
Alderwood Manor
Bellevue
Bothell
Brier
Burien
Clyde Hill
Des Moines
Edmonds
Esperance
Federal Way
Hobart
Hunts Point
Issaquah
Kenmore
Kent
Kirkland
Lake Forest Park
Lynnwood
Martha Lake
Medina
Mercer Island
Mill Creek
Milton
Monroe
Mountlake Terrace
Mukilteo
Newcastle
Normandy Park
North Creek
Redmond
Renton
Sammamish
SeaTac
Seattle
Shoreline
Snohomish
Tukwilla
Woodinville
Woodway
Yarrow Point
Get Your Appliance Fixed Today
We deliver the quality you expect and deserve. We work fast and we work right. With us, you will always know how much labour will cost, before the job is done, no matter how long it takes us to complete. Call to book a technician visit at your place to diagnose the issue and get an estimate.